In my crisscrossing of the state I'd never visited the village of Elsie, a dairy area not far from Ovid (a more familiar landmark might be the State Capitol–Lansing is about 45 minutes southwest of Elsie).
Mom's name was Elsie, so when I found myself just a few (country) miles east of town I decided to swing through to see this Elsie's giant cow statue and get a whiff of the dairy air. Although this is the state's self-proclaimed Dairy Capital, the name of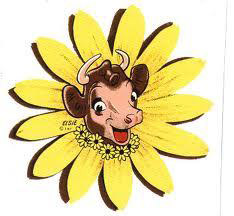 the town has nothing to do with Borden Dairy's "Elsie the Cow."
In 1836 white settlers moved to the area that had been home to the Sauk and then the Chippewa Indians. By 1850 the growing population justified a school, but the community wasn't called Elsie until 1857, after Elsie Amelia Tillotson, the first white child born in the village.
A sign outside of the library, "Elsie Historical Room," caught my eye, but after being greeted by Yoshi the Library Dog I learned that access to the papers, photos, and other records is by appointment only.
The library ladies said someone would be happy to come and unlock it for me, and gave me names and phone numbers to call. I decided to save that for another day and opted for a stroll along Elsie's main vein in search of an ice cream parlor—something that Michigan's Dairy Capital was sure to have at least one of, right?
Elsie's giant cow—which looks more like Elsie the Cow's husband Elmer the Bull—has a prominent place next to the town hall.
The town, alas, has no ice cream parlor. Home to many more cows than humans, the downtown does have a bank, hardware store, market, pizza joint (where you can get ice cream) and a place that offers massages and alternative healing services. And a lot of vacant buildings. I know there's a funeral home nearby because someone stopped and asked me for directions; it was either because I looked like a local or I was the only one on the street.
The Red Rooster Cafe is a bright spot in town. Although it was between meal times I popped in to check out what was behind the cheery facade.
The joint is cozy and nicely decorated, with roosters, of course. It's the kind of place where everyone stops talking to size up the stranger who just walked through the door.
The homemade pie, served a la mode, was tempting—and, I later learned, gets rave reviews—but I couldn't have done it justice.
That'll have to wait until next time.
I would like to return to Elsie for the annual Dairy Festival in July, but more for a visit to Green Meadow Farms. At 6,500 acres and 9,500 head of cattle, mostly Holsteins, it's one of the largest dairy farms in Michigan and has one of the largest herds of registered Holsteins in the country.
Green Meadow Farms is home of the Michigan State University Training Center for Dairy Professionals and works with large animal veterinarians.
In another project with the MSU Department of Biosystems and Agricultural Engineering, the farm's complex manure system uses a methane digester to produce electricity.
Udderly fascinating.
Area A on the map
Visitor Info Click:
Pure Michigan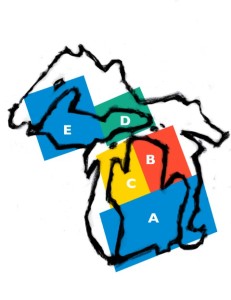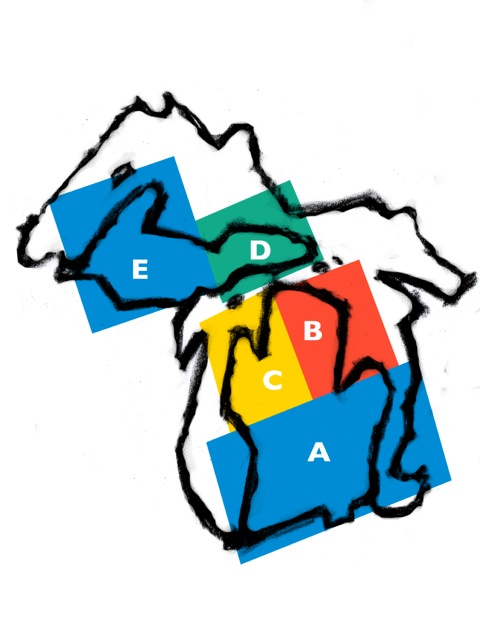 A mural in beautiful downtown Elsie
All stories and photos copyright Kath Usitalo unless noted otherwise