If a tour of the Air Zoo, Michigan's flight and space museum near Kalamazoo, had a soundtrack it would be an eclectic mix to cover the centuries of man's effort to soar with the birds and beyond.
As I strolled the impressive displays a few tunes rattled around my head: the bouncy, "Those Magnificent Men in Their Flying Machines" to accompany the giddy, daring, early days of airplane travel; the Air Force song, "Off We Go Into the Wild Blue Yonder" for the extensive collection of military aircraft; and, as a Frank Sinatra fan I heard, "Fly Me to the Moon" followed by Elton John's 1972 hit "Rocket Man." The line, "It's lonely out in space," came to mind as I studied the long view of earth in the beautifully detailed mural that wraps around the exhibit floor.
"Century of Flight," a work of aviation art measuring 32′ high and 800′ long, depicts the history of manned air travel from the first hot air balloons to the space age. It took artist (and Michigan native) Rick Herter, with assistants, more than 14 months, 400 gallons of oil paint and an assortment of 200 brushes and rollers to complete the 28,800 square foot mural.
The Air Zoo, which opened to the public in 1979, traces its origins to one couple's military service and interest in World War II aircraft. In 1959 Marine Air Corps veteran Pete Parish and his wife Suzanne Parish, who served with the Women Airforce Service Pilots (WASPs), got their collection off the ground with a half-investment in an airplane. They eventually launched their museum with a small "zoo" of aircraft including a Wildcat, Hellcat, Bearcat and Flying Tiger.
Several expansions later the Air Zoo is now affiliated with the Smithsonian Institution and houses the Michigan Space Science Center, Michigan Aviation Hall of Fame, National Guadalcanal Memorial Museum, and the exhibits Women in Space and Flight and Space: Dare to Dream.
There are more than 50 vintage aircraft on display in two locations, and flight and space-related activities such as full-motion flight simulators, an indoor Ferris wheel and two-story parachute jump. Even if you don't have kids in tow pop into the Kids' Korner activity area to see the whimsical "Flights of Fancy" mural depicting fun and colorful flying machines. It's by local artist Sy Ellens, who also created the massive "floor mural" that defines display areas in the main exhibit hall.
You can experience a WWII German bombing mission in the 4D Missions Theater, and on select dates take to the real skies on a flight aboard a vintage plane (see info below).
Volunteer docents who clearly love their work are eager to share their knowledge—in some cases first-hand—about the planes and the other exhibits. Even if you don't have a deep interest in the mechanics or fascinating history of the planes there's enough variety of activities at the Air Zoo to entertain and inform all ages.
My visit just reinforced my fascination with flight, the wonder of it and the genius behind it. Departure tune: Sinatra again, singing "Come fly with me, let's fly, let's fly away…"
For ideas on where to eat, stay, shop and play in Kalamazoo check out the free Great Lakes Gazette Touraide!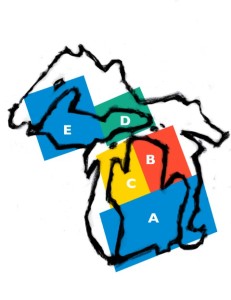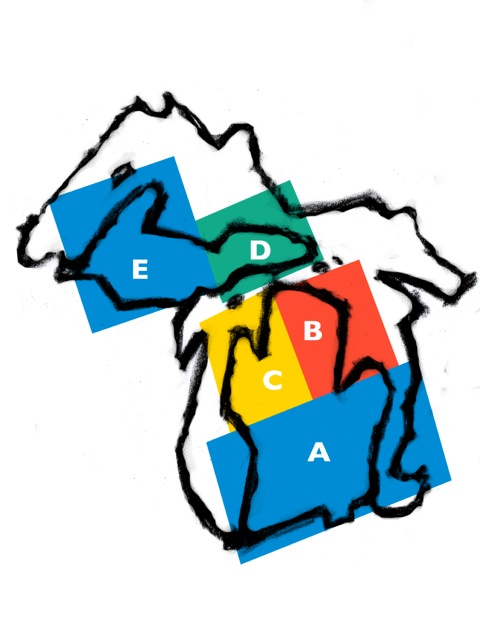 Air Zoo of Kalamazoo
6151 Portage Rd., Portage, Michigan
(866) 524-7966 or (269) 382-6555
Air Zoo is open seven days
Admission is $10 or  $16.50, depending on the package of activities;
kids four and under free
Located in Area A on the map
Visitor Info Clicks:
Kalamazoo
Pure Michigan
Vintage Airplane Rides
The Air Zoo's Ford Tri-Motor, the first mass-produced airliner, will take to the skies from the Portage campus for 15-minute flights Thursday, July 18 through Sunday, July 21. Only 199 of the planes were built between 1925 and 1933, and just a dozen are known to exist today.Advance reservations are $70 per person or $75 at the gate; $50 for those 17 and under. Book the flight at www.flytheford.org
The plane is touring the country with another Tri-Motor; check the same website for the national schedule.
The Air Zoo and Yankee Air Museum (YAM, located at Willow Run Airport, Ypsilanti Township), are offering a rare chance to take a half-hour flight aboard two of the WW II bombers in the YAM collection:
The North American B-25 Mitchell was a part of General Doolittle's raids on Japan in 1942 and will take off from the Air Zoo on June 4, July 10, August 10 and August 21.
Cost is $400 per person; for reservations phone (269) 350-2815.
The Boeing B-17 Flying Fortress, of which 12,731 were built from 1935-1945, will take passengers on July 24, August 14, September 4 and September 25.
Cost is $425 per person. Contact Yankee Air Museum to book a flight.
All stories and photos copyright Kath Usitalo unless otherwise noted