Just before Paige left for college we made a quick tour of some of her favorite spots in the 313, including Greenfield Village, the outdoor portion of The Henry Ford museum complex in Dearborn.
The sky was threatening rain, but we only had a short time for our visit and figured we'd chance it. If necessary we'd duck into one of the historic structures until the storm blew over.
When the downpour came we near the Grimm Jewelry Store, a pretty little building I hadn't stepped into in years. It's situated across the lawn from the carousel and not on my "usual" route through the Village, so I'm glad we were sidetracked and were able to spend a little extra time to learn about the history of the business.
With the merry-go-round music as backdrop, the docent (unfortunately, I didn't get his name) explained that jeweler Engelbert Grimm commissioned architect Peter Dederichs Jr. to design his shop for a spot in Detroit's near west side on Michigan Avenue, near the current Mercury Burger & Bar and across the street from where the oh-so-popular Slows Bar-B-Q now stands.
Of course Slows wasn't a BBQ joint in the 1880s; it was a KFC, I believe.
Grimm and his wife and children lived above the jewelry shop, which he operated from 1886 to 1931. The store's showcases and shelves hold examples of the mass-produced clocks and everyday or costume jewelry that Grimm carried for his working class clientele.
Henry Ford frequented the shop and in 1940, after his friend Engelbert died, Ford relocated the building to Greenfield Village and restored it to its 1880s roots.
When he was in the Village Henry Ford occasionally stopped in to tinker with watches—something he'd done since childhood—-at the repair table in the window.
I happened on this "Pic of the Month" entry on The Henry Ford website that shares more about the architect, the structure, and historic photos of the Grimm Jewelry Store.
The rain stopped, the sun peeked through, and we were able to squeeze in a ride on the 1913 Herschell Spillman carousel.
Paige was about five when the merry-go-round, with its 40 hand-carved animals, was relocated from the Suwanee Park area of Greenfield Village to its more central location. We remembered that we waited for an hour to ride it back then.
And yes, although I got a little weepy when I saw other parents enjoying the rainy day ride with their kiddies I resisted the urge to say, "Enjoy every minute; time really does fly!"
It was a memorable afternoon with "my little girl" before she headed to new adventures at school in upstate New York (which, coincidentally, is where the carousel was built).
And the seasons they go round and round…
The Henry Ford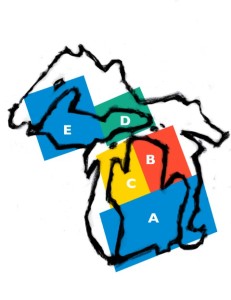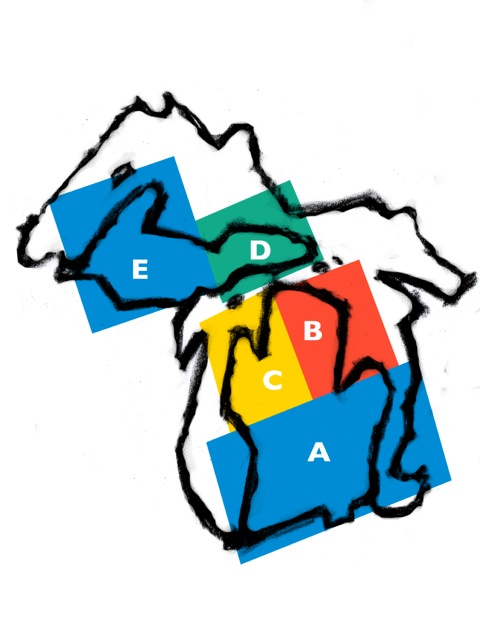 20900 Oakwood Blvd., Dearborn, Michigan
(313) 982-6001
Open daily; admission charged. Separate or combination tickets for Greenfield Village and Henry Ford Museum; see website for prices and packages.
Area A on map
Visitor Info Clicks:
Detroit
Pure Michigan
All stories and photos copyright Kath Usitalo unless otherwise noted