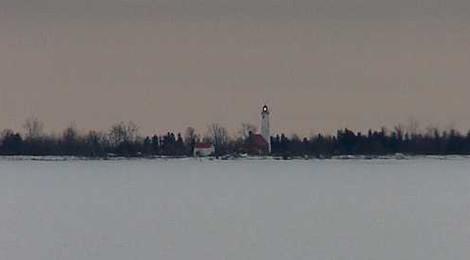 I did my annual check on the SnowmanCam the other evening and although I didn't spy a deer as I have been lucky to in the past, it was good to see the guy still measuring snowfall in Gaylord, in the Northern reaches of Michigan's Mitten.
The grinning snowman, accompanied stands next to a gauge that measures the depth of the white stuff in Wilderness Valley. Since Ken Borton created SnowmanCam in 2004 he's been seen by folks around the world, and attracts visitors who trek to the home of the wooden cutout to pose for photos all year 'round.
The webcam is free but you're welcome to make donations to help pay for food for the critters that wander into the scene; donors receive a gift of a calendar, wearables or a miniature version of Snowman.
Visit these webcams to take a free tour of Michigan in winter without having to pull on your longjohns, boots and chook*:
MichiganSnowCams – Dozens of locations from Flint to Copper Harbor (although not all are active or functioning).
Mackinac Bridge – Monitor the conditions at the five-mile suspension bridge linking the Upper and Lower Peninsulas
Lake Michigan Cam – Every Great Lakes surfer knows winter is prime time on the inland seas; keep an eye on the waves near the Grand Haven pier and lighthouse courtesy of EarthCam and Surf Grand Haven
Great Lakes Webcams – Locations at Alpena, Muskegon and South Haven; Toledo, Ohio; Michigan City, Indiana; Milwaukee and Chicago; hosted by the NOAA Great Lakes Environmental Research Laboratory
Soo Locks – The shipping season doesn't resume for a couple of months but the cameras are rolling at Sault Ste. Marie
3 Dozen Upper Peninsula Cams – Admire the handsome architecture of beautiful downtown Calumet on the city's Michigan Main Street Cam, and find links to webcams across the U.P.
Northwoods Camera Network – Links to dozens of privately-owned and operated webcams across Michigan, Wisconsin and Minnesota (plus a smattering in Western and Eastern states and Canada)
Great Lakes Cams – Great Lakes artist Chris Wilson, a painter of maritime subjects, maintains links to more than 150 cams including one at Tawas Bay with the Lake Huron lighthouse (pictured above) and a very cool view of Niagara Falls. The cams cover each of the five Great Lakes, plus Lake St. Clair and rivers and canals. You can even escape the chilly scenes by clicking the links to the Panama Canal Cam and Key West Harbor Cam.
*A chook is a U.P. term for a knit hat (a.k.a. chuk or toque), and it's okay to wear yours while doing your web snow cam tour if it makes you feel more a part of the scene, eh?