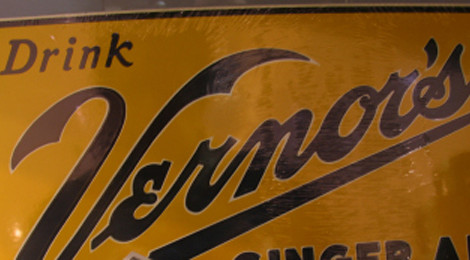 Once in a while (maybe twice a year) I have a taste for onion rings, but last week when the mood hit I didn't have any beer in the house for the traditional recipe. So I turned to another brown and fizzy beverage that we had on hand, and came up with a delish dish: Vernors Onion Rings.
Vernors, Detroit's original ginger ale made a fine substitute for the beer.
In fact, we gobbled up the first batch of onion rings and I made a couple more mounds of the greasy treat.
It's a simple recipe, and you can play with it a bit depending on whether you like the batter thick or thin. Add seasonings to taste.
For more about Vernors, including the recipe for the Boston Cooler, see the related Great Lakes Gazette post at Raise A Glass On 313: National Vernors Day.
Vernors Batter Onion Rings
1 cup flour
1 cup Vernors, room temperature
2 large, sweet onions
paprika (optional) and salt
vegetable oil for deep frying
Method
Put the flour and a dash of paprika (optional) into a bowl and create a well in the center. Pour the Vernors into the well; whisk until smooth.
Let batter rest for up to an hour.
Peel the onions and slice into rings, about 1/3 inch each
Heat the oil in a heavy pan (oil should be about 2 inches deep) or a deep fryer
Dip the onion rings into the batter and let the excess drip into the bowl
Fry rings in the hot oil until golden; as you remove them from the pan shake off excess oil
Transfer to a tray lined with paper towels; sprinkle with salt
If you're making a lot of onion rings put them into a preheated oven to keep them warm while cooking up the batch
Photos and stories copyright Kath Usitalo and may not be used without permission