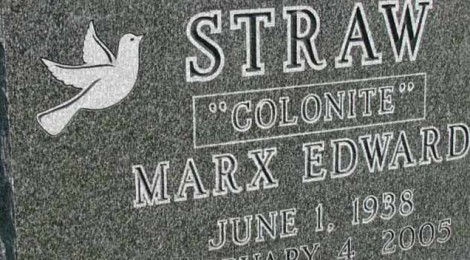 Most folks wouldn't brag on their tombstone about their reputation as "America's Greatest Pickpocket" or "The Magnificent Fraud."
But at Lakeside Cemetery in Colon, a small town halfway between Detroit and Chicago that is known as "The Magic Capital," those claims to fame are respected.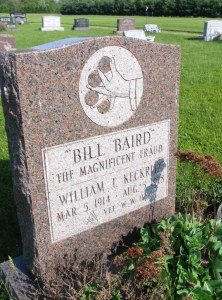 Lakeside is the final resting place for more than two dozen performers and others connected to the world of magic and illusion.
They include Ricki Dunn, who boasted about being America's Greatest Pickpocket, and Bill Baird (aka William T. Keckritz, aka The Magnificent Fraud). He was known for his ability to manipulate billiard balls and his stone bears an image of a hand holding four of them.
On a visit to the cemetery with Greg Bordner, owner of Abbott Magic Company in Colon, he points out a sculpture that tops the grave marker of magician Harry Blackstone, Sr. and asks, "Is it a rose or a flame?" (hmmmmm…a cobra is not an option?) I shrug and Greg says, "Even in death Blackstone has you guessing."
It was popular 20th century magician Blackstone who put Colon on the map when he and his wife Inez bought property on Sturgeon Lake in 1926. He and his troupe and other performers vacationed in the tiny town, including Australian Percy Abbott who came for the fishing, married a local woman and in 1934 opened the magic shop that still bears his name.
Later that year Abbott and business partner Recil Bordner (Greg's father) launched the first "Magic Get-Together," a gathering of professionals, amateurs and fans; the 78th annual event is set for August 5-8, 2015. The Graveyard Tour is a popular feature of the event.
Most of the magicians' gravesites are clustered in one area of the cemetery; you can pick up a map with locations marked from Abbott's store and the Colon historical museum. You'll see some plots of those who are still living but wanted to secure their spot amongst their counterparts.
Although I was familiar with only a few of the magicians, I was amused by the messages from people like "Little Johnny" Jones, the Conjuring Humorist. His final comment: "Now I have to go and fool St. Peter."
Nearby the marker for Robert and Elaine Lund, who established the American Museum of Magic in nearby Marshall, expresses that they are "Among Friends."
I like the stone for Karrell Fox (who, among other professional accomplishments was Milky the Clown on Detroit television) that simply states: "It was fun."
Lakeside Cemetery is located on Farrand Rd. near Colon Rd., Colon; 269-651-2492. Colon is about midway between Detroit and Chicago near the Indiana border.
Lodging is in nearby Coldwater (Branch County).
Colon is located in Area A on the map
Visitor Info Clicks: