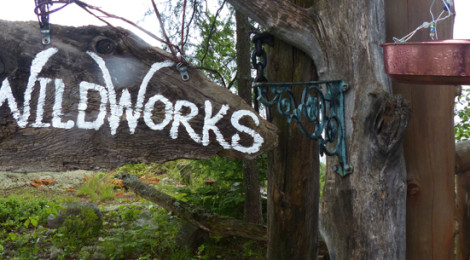 We're rolling along the two-lane Upper Peninsula highway north of Paradise toward Whitefish Point when I spy the simple, hand-lettered "WildWorks" sign by the side of the road and do a U-turn.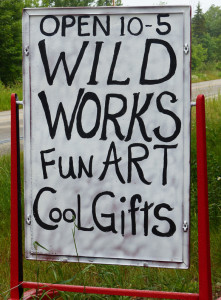 How can I resist the promise of "Fun Art" and "Cool Gifts?"
As I pull into the small parking lot I'm wowed by the setting on Lake Superior and the extensive gardens filled with blooming flowers, lush ground cover, tall trees, small stacks of stones and found objects enjoying new life as yard art.
I am entranced by this spot, by this a secret garden not seen from the road, a private and peaceful retreat on a slice of sandy land between the highway and the greatest Great Lake. A little bit of paradise in Paradise.
Everywhere  there's something fun to see: a casual but artful arrangement of marbles and stones. A vintage copper gelatin mold repurposed as a bird feeder. A strawberry patch protected from wildlife. An oversized, broken mirror propped against a fence, reflecting the natural beauty. An antique buggy parked in a just-planted bed of sedum. Adirondeck chairs perched on a deck overlooking Lake Superior.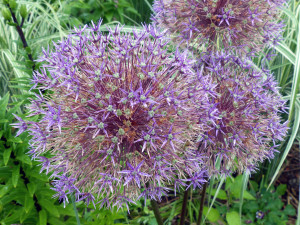 Scott Erickson is getting ready to hop into his pick-up truck and I ask him if he's the artist. He laughs and says that his wife Barb has been encouraging him to start making things out of the items he finds and hauls home—some of which, I presume, dot the lot around the house.
He points us toward the WildWorks studio and gallery where Barb Erickson crafts all sorts of things out of her imagination and pieces of nature.
Barb says she's been making art since she was a girl growing up in Grand Rapids, since she could hold a brush and dab at the colorful squares in her tin of watercolors. "I was just compelled to always be doing, making something," she says.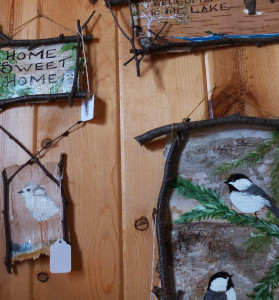 The self-taught artist still She still paints with watercolors but also acrylics, mostly birds and scenes from nature on canvas, tree bark, driftwood and wearables.
Barb and Scott just took a 5-day trip to the Western U.P. to gather driftwood for projects—she was recently commissioned to paint a lighthouse and an ore carrier on pieces of wood.
She also gathers twigs, stones and other bits from the earth and creates jewelry, decorative wall hangings and a variety of whimsical pieces. Take home a piece of Paradise, a smooth Lake Superior rock painted with the name of the village and the wild blueberries that inspire the annual local festival. Wear a hand painted bird head pin or an owl's face on a T-shirt. Flip over a driftwood "Welcome" sign and change the message to "Go Away."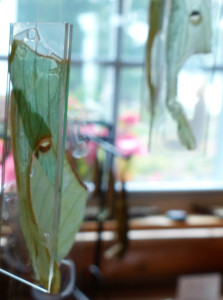 Sometimes Barb incorporates other objects to make something new.
"I had all these glass microscope slides and insect wings, and put them together," says Barb, pointing to a delicate sun catcher, as if everyone would think to create miniature stained glass-like pieces from cast offs.
When we stopped by Barb had just opened her cozy shop in a converted guest cabin, its knotty pine paneled rooms filled with her creations and a sprinkling of vintage finds.
This is fun, affordable art crafted with care by a talented woman who greets visitors from a table near the front door and plays with twigs, looking for inspiration, as she chats. "I can do something with these," she says.
Three enthusiastic shoppers scooping up an assortment of well-priced gifts discover that one of the trio has to retrieve more cash because Barb doesn't accept credit cards. The remaining two continue to shop. I think it makes a difference in buying decisions when you can chat with artists about their work and experience a personal connection to pieces handcrafted on the spot.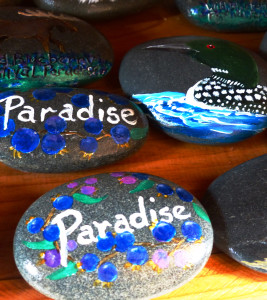 T.J. and I took a few minutes more to enjoy the garden and gain some inspiration for ways to make our yarden a more personal environment—or maybe just a place for all of that "stuff" I can't part with that's just collecting dust in the basement.
WildWorks will be open 10 a.m.-5 p.m. on weekends (Friday through Sunday) at least through mid-October. Just look for the sign by the side of the road.
After that and through the long, cold winter Barb will keep herself busy making art and plans for her garden in her cozy compound on the Lake Superior shore.
NOTE: You may email for an appointment at the gallery; see the WildWorks by Barb website for more info.
WildWorks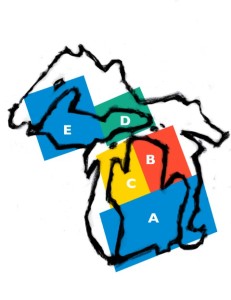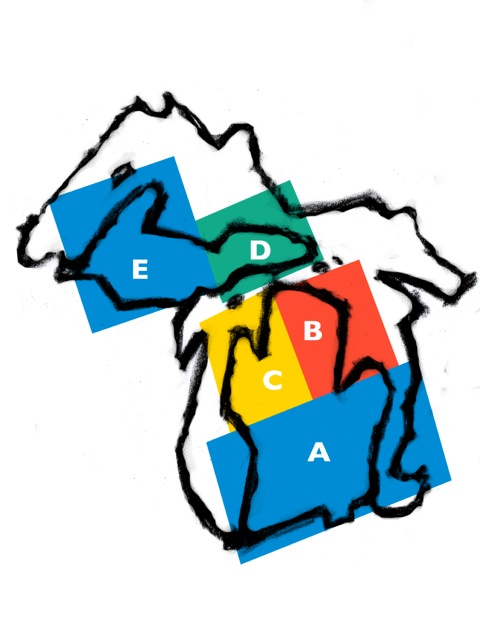 10094 N. Whitefish Pt. Dr., Paradise, Michigan
WildWorks will be open at least through mid-October and will reopen in May.
No parking for RVs or other large vehicles. Cash only.
WildWorks is located in Area D on the map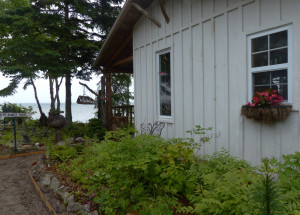 All stories and photos copyright Kath Usitalo unless otherwise noted