Out of Sight: 1998 R rated romantic dramedy with plenty of action, starring George Clooney and Jennifer Lopez with Ving Rhames, Don Cheadle, Dennis Farina and Albert Brooks. Directed by Steven Soderbergh. Oscar nominated screenplay by Scott Frank based on the novel by Elmore Leonard.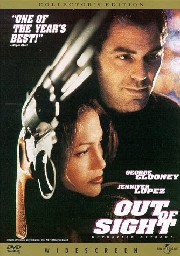 Rent this flick based on the work of writer Elmore "Dutch" Leonard, who died at his Detroit area home on August 20, 2013, of complications from a stroke.
Leonard liked the Motor City well enough that when his father moved the young family to Detroit in 1934 he stayed and, after attending the University of Detroit and working as an advertising writer turned to penning novels.
Although several of Leonard's 45 books have been made into films, he wasn't fond of most of the screen versions (or of Hollywood).
Out of Sight is an exception, a film adaptation that stays true to his style, featuring memorable characters delivering one-of-a-kind dialogue, a dark humor and truly original stories in gritty settings.
The same screenwriter who brought Leonard's "Get Shorty" to movie audiences adapted this unlikely romantic caper involving an escaped con (George Clooney) and a Federal Marshal (Jennifer Lopez).
From its opening in Florida to its conclusion in Detroit, there's no scrimping on Dutch Details—the idiosyncracies and bits of information that make separate Leonard's characters and dialogue from those of writers with lesser ears and powers of observation.
The usual suspects, Detroit landmarks including the giant fist sculpture honoring boxer Joe Louis, Renaissance Center and the Motown Museum, make the obligatory drive-by appearances.
The original, now-closed Kronk Gym—training ground of boxing legends—plus down and out neighborhoods, the State Theater (now the Fillmore) and the Ren Cen hotel have juicier roles.
And did I mention that Clooney and Lopez are sizzling hot?
Check out this Out of Sight clip at ElmoreLeonard.com