Rhubarb is one of those love/hate foods. I'm in the "I ♥ Rhubarb" camp.
Although I don't understand folks who munch the plant raw (stalks only, folks—the roots and leaves can be poisonous), I do like it in baked goods, which usually involve lots of sugar to counter the tartness of the vegetable.
It's an acquired taste and well known in this region because it grows in abundance in the upper Midwest, on farms and in the wild. At the farmer's market in the Upper Peninsula town of Newberry I bought a bunch of it from a woman who said it was growing wild in her yard. Rhubarb is called the "pie plant" because that's a popular use for it, in combination with strawberries but also raspberries and blueberries. I've made a nice cold sauce or dessert soup with it (I think that's a Finnish thing) and this moist quick bread.
Rhubarb is an ancient plant that was originally cultivated by the Chinese back in 2700 BC for medicinal purposes. It made its way to Europe in the 1600s, and to Maine around 1790-1800, gradually migrating across the northern states.
Michigan, Oregon and Washington are the top commercial growers of rhubarb in the U.S.; Ontario is also a major supplier.
Something I've noticed in the U.P. are roadside displays by crafters who like to make concrete impressions of the gigantic rhubarb leaves for bird baths, bird seed feeders or ????
You can learn all about the perennial veggie at  The Rhubarb Compendium, a site that not only outlines the history of rhubarb but offers growing tips and over 300 recipes for rhubarb cakes, breads, soup, pies, muffins, entrees and rhubarb pickles. Since I'm not a Star Trek fan I don't get it, but those in the know can find the formula for Aaktay (Klingon Steamed Bread).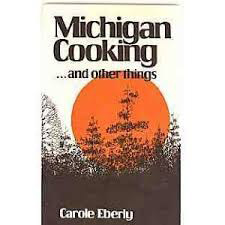 Rhubarb lovers will want to shop the site's store for "Got Rhubarb?"  T-shirts, sweatshirts, mugs, tote bags, aprons and baby bibs.
For this delish rhubarb bread recipe I turned to my trusty Michigan Cooking…and other things cookbook by Carole Eberly.
Enjoy!
Rhubarb Bread
Ingredients
2-1/2 C flour
1 tsp salt
1 tsp baking soda
1-1/2 C brown sugar
1 egg, beaten
1/2 tsp vanilla
2/3 C salad oil
1 C sour milk*
2 C rhubarb, diced
1/2 C chopped nuts*
Topping
1/2 C brown sugar
1 Tbsp butter (soft)
Method
Sift together the flour, salt, soda and sugar. Beat egg, vanilla and salad oil. Stir in milk. Blend into sifted ingredients. Stir in rhubarb and nuts. Pour into 2 greased loaf pans. Sprinkle with topping. Bake at 325 degrees for 60 minutes. Makes 2 loaves.
*NOTES: For sour milk I used 1 C milk with 1 Tbsp white vinegar; let it set about 15 minutes. I did not include nuts because I didn't have any in the house.