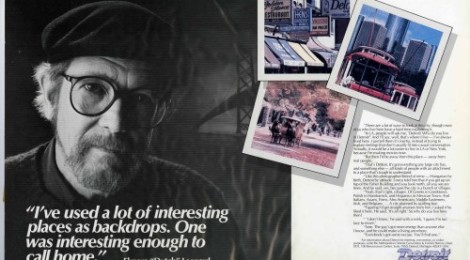 Note: My favorite novelist, Elmore Leonard, passed away on August 20, 2013, weeks after he suffered a stroke.
I am so glad I didn't off Elmore Leonard. Or do him serious injury.
As a major fan of the novelist it would've been hard to live with myself if I'd deprived the world of the stories he continues, at the age of 87, to share. The jail time would not have been pleasant either, although I'm sure that experience would have given me some great story material.
It was a few years ago. I was backing the Splattered Van out of a slot in a parking garage in Royal Oak, not too far from the Detroit suburb Leonard calls home. One of those situations where the sun blinded me through the windshield, but everything to the rear of the vehicle receded into the darkness of the low-ceilinged garage. I started to creep backwards and suddenly, there he was. Elmore "Dutch" Leonard. Too close for comfort. Dressed in black, heading to his vehicle.
At least it looked like Elmore Leonard. Skeptics may doubt that a best-selling novelist and screenwriter, the creator of U.S. Deputy Marshal Raylan Givens of "Justified" FX TV show fame, the dialog wizard known the world over would be wandering a parking garage alone, retrieving his own car—wouldn't he have a driver?
I've watched Leonard in interviews many times and we, in fact, both attended the University of Detroit (a few decades apart, but I have seen pictures of him in the alumni magazine).
Many moons ago when I worked for the Detroit Metro Convention & Visitors Bureau I met him at a photo shoot for an ad campaign that had Detroit celebrities trying to convince folks to visit.
Leonard's set some of his crime novels in the city so he was a bit of a controversial choice as a pitch man promoting Detroit, but that's another story.
I believe I'd know him if I saw him, even in a darkened parking garage.
Fortunately, my brakes worked and I quite possibly saved Elmore Leonard's life. Or the life of someone who looks like him.
FOR MORE ON ELMORE:
Check out Elmore Leonard's website.