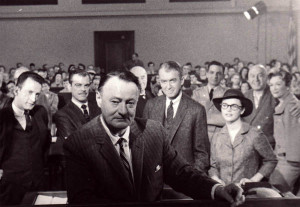 Anatomy of a Murder: 1959  (unrated, adult themes) drama based on a true story, starring James Stewart, Lee Remick, Ben Gazzara, Eve Arden and Arthur O'Connell. Directed by Otto Preminger. Screenplay by Wendell Mayes based on the novel by John D. Voelker.
Movie audiences more than a half century ago were shocked, SHOCKED by the lustful and murderous tale of a love triangle gone bad, set in the wilds of northern Michigan's Upper Peninsula. Imagine what it would have been like to live through the actual scandal, and then have Hollywood come to town to commit it to film.
Anatomy of a Murder is based on real events recorded as the 1958 novel of the same name by Robert Traver, pen name for Michigan Supreme Court Justice John D. Voelker, who lived and fished in the area.
Veteran film director Otto Preminger and his stellar cast and crew moved into the neighborhood for filming in and around Marquette, Ishpeming, Michigamme and Big Bay, the scene of the crimes.
Not surprising to those familiar with the territory, 55 years later, much of the film's scenery is still recognizable.
The opening scene's sky is just as big, and Ishpeming's iron mining headframe (tower) as oddly distinctive. Lake Superior-hugging highways offer up the same scenic views, and Marquette County Courthouse is as grand.
Set side the time to savor each of the movie's 161 minutes. Fast-forward and you'll miss memorable characters in across-the-board excellent performances…thoughtful and intelligent dialogue…the score by Duke Ellington…and striking images in black and white.
Screenwriter Wendell Mayes adapted and Otto Preminger directed the hot drama, which received several Oscar and Golden Globe nominations, but no statues. (Ben-Hur took Best Picture that year.) Duke Ellington's score and soundtrack were recognized with Grammy Awards.
You can download a self-guided tour to film locations in Ishpeming or stop by the Marquette visitors bureau office at 337 W. Washington Ave. to pick up a copy of that walking tour brochure and a second that highlights movie locations in Marquette, Michigamme and Big Bay as well as Ishpeming.