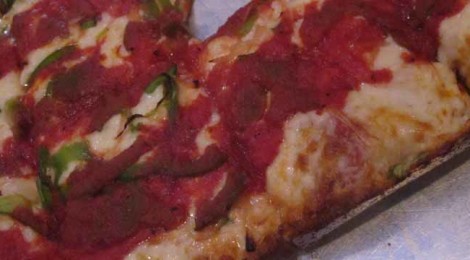 Detroit is a pizza lover's paradise. Thick, thin, round, square, local specialties, mom and pop joints, stand-alone carry-outs and national chains—everyone has their favorite in the Metro area.
Consider that all of these chains were founded in Detroit (okay, stretching the boundaries a bit…let's say Southeast Michigan):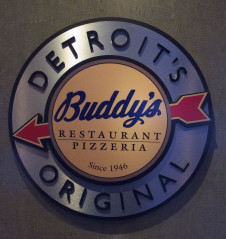 Buddy's, Detroit, 1946
Cottage Inn, Ann Arbor, 1948
Domino's, Ypsilanti, 1960
Happy's Pizza, Detroit, 1996
Hungry Howie's, Taylor, 1973
Jet's Pizza, Sterling Heights, 1978
Little Caesars, Garden City, 1959
Papa Romano's, Southfield, 1970
On top of these there are smaller Michigan chains and one-of-a-kind pizza palaces like Loui's Pizza in Hazel Park, famous for its square, Detroit-style pie.
Buddy's opened as a blind pig in 1936, pouring bootleg beverages through Prohibition.
By 1946 owner August "Gus" Guerra had gone legit with the tavern and added the Sicilian-style pie that put the place on the pizza map. We used to chow down at the Detroit location while attending the nearby University of Detroit and living in Palmer Park apartments.
Since then we've had Buddy's carry-out pizza, but there's nothing like enjoying it hot out of the oven at a restaurant, as we sometimes do for family members' birthdays.
We recently trekked across town to Buddy's in Livonia (a suburb on Detroit's west side) for a celebration and feasted on the signature Antipasto salad with "made from scratch" vinaigrette dressing and a selection of the famous square pizzas.
No one clamored for the Florine Mark, named for the Weight Watchers diva and topped with a fat free cheese blend and veggies.
This was a day for splurging and our gang handily polished off four of Buddy's finest large pizzas. (We may have been able to put a dent in another but we had to save room for birthday treats.)
The Meat Deluxe and Original Veggie were standouts.
There's more on the menu—soup, sandwiches, pasta—but we've never strayed from the pizza and salad.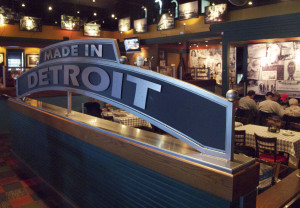 Buddy's has 9 locations in the Detroit area; some are carry-out only. The spacious Livonia dining room we visited is inviting and decorated with photos of Detroit landmarks and sports icons. Our server was attentive, friendly and patient with our party. A pleasant time was had by all.
That thick and chewy, forget-about-calorie-counting slab of oil-drenched and cheese-topped Motor City specialty was first served at Buddy's, a tavern at Conant and Six Mile Road in Detroit.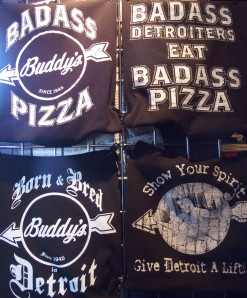 But the 'tude of the black and white Buddy's T-shirts for sale made me want to head back to the gritty city location and have a slice of deliciously greasy local history at the Detroit original.
Buddy's
Nine Southeast Michigan locations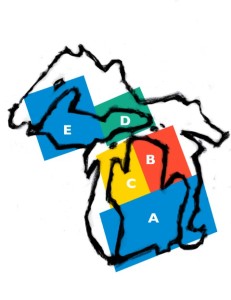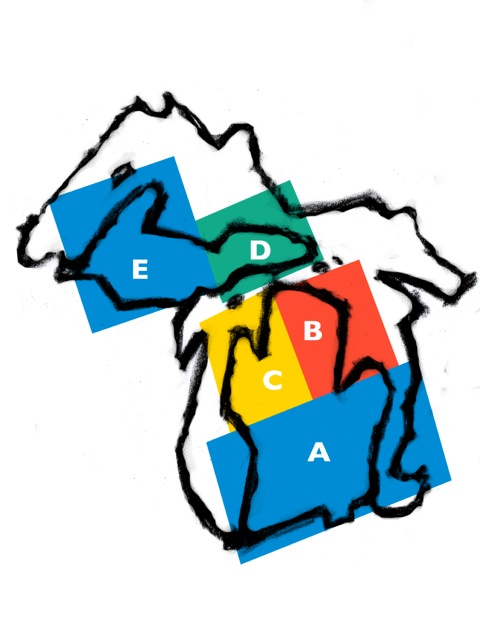 including Livonia
33605 Plymouth Rd.
(734) 261-3550
Open 7 days
Located in Area A on the map
All photos and stories copyright Kath Usitalo unless otherwise noted