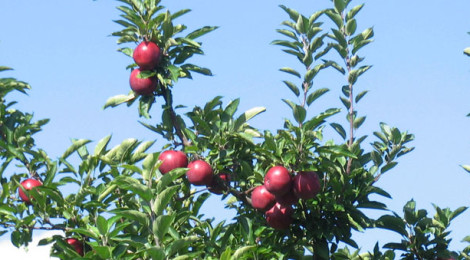 After a puny crop of about 2.7 million bushels in 2012, Michigan orchards are loaded with apples and the expected yield is 30 million bushels—well over the 20 million gathered in a typical year.
And with the abundance of this important fruit hanging around, I thought I'd share a couple of recipes I found at the Michigan Apple Committee website.
The Michigan Apple and Butternut Squash Soup was pretty and sweetly delish, and the Apple Crisp was easy and tasty, too. Add a loaf of our favvorite homemade whole wheat bread and enjoy a comfort food meal ideal for a chilly evening.
If, like me on this particular day, you don't have time to let the wheat bread rise, roll out a batch of the quick buns I found at http://www.food.com. I used the whole wheat flour that had been ground at the historic DeZwaan Windmill in the West Michigan city of Holland, making this a Pure Michigan meal.
I think these Savory Zucchini Muffins would make a good accompaniment, too. May have to try that combo soon.
Check out the Michigan Apple Committee website for apple fact and recipes. And if you live in Michigan remember to enter to win free apples for a year; click here for details.
Super Quick Whole Wheat Buns
from food.com
1 C warm water
3 T warm water
1/3 C canola oil
1/4 C sugar or 1/4 C honey
2 T yeast
1 tsp salt
1 egg, beaten
3-1/2 C whole wheat flour
Combine water, yeast, oil and sugar or honey; let rest for 15 minutes
Add salt, egg and flour to yeast mixture and mix well
Rollout 3/4 inch thick and cut into 10-12  rounds
All stories and photos copyright Kath Usitalo unless otherwise noted.
Place rolls on cookie sheet sprayed with nonstick cooking spray
Bake at 400-425 degrees for 8-10 minutes or until lightly browned. Be careful not to overbake or they will be too dry (every oven is different!)