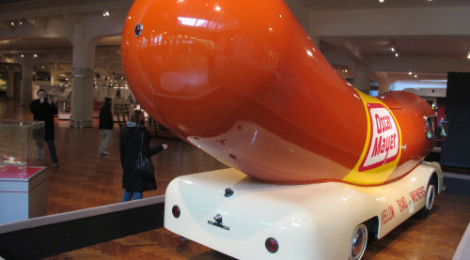 Our family is below average, and  likely to stay that way—at least in the area of hot dog consumption. We come no where near eating the average American's 60—that's 5 dozen—hot dogs each year.
A few years ago in honor of National Hot Dog Month, celebrated each July, I tried to start a tradition of serving cheesy weenies (bacon wrapped, cheese stuffed hot dogs) on July 23rd, designated Hot Dog Day. The family was cool to the idea and it never took off.
July, according to the National Hot Dog and Sausage Council, is smack in the middle of prime hot dog season. Americans will eat 7 billion between Memorial Day and Labor Day—that's 818 dogs per second. The Fourth of July alone is responsible for the disappearance of 150 million red hots.
Fittingly, the biggest hot dog day of the year is also Nathan's Annual Hot Dog Eating Contest at New York's Coney Island. Once again, reigning champ Joey Chestnut set a new record and ate his annual allotment of hot dogs when he downed 69 tube steaks—with buns—in 10 minutes. It is the 29-year-old's seventh consecutive win. In the women's competition Sonya "The Black Widow" Thomas managed to consume 36-3/4 hot dogs with buns to remain champ; she has won all three of the women's contests. (Compare those numbers to the first competition in 1916, when the winner ate "just" 13 dogs.)
Michigan is known for its special treatment of hot dogs, called Coney Islands, but even within the state there are different interpretations of the dish: a dog on bun topped with with a chili  sauce, raw onions, and mustard.
The first Coney Island joint appeared in 1914 in Jackson, where George Todoroff's secret recipe is still served up by his fourth generation at Todoroff's Original Coney Island.  A few years later in Detroit a Greek immigrant opened American Coney Island, followed by his brother's Lafayette Coney Island; more than 90 years later the side-by-side downtown landmarks are open nearly 'round the clock.
Angelo's Coney Island, which opened in 1949, is a Flint institution and proudly touts its use of Michigan-made Koegel hot dogs, "made with higher standards than the FDA requires.
Hot dogs are served up at diners and drive-ins across the state; a handful of fun spots:
Visitor Info Click:
Pure Michigan 
All stories and photos copyright Kath Usitalo unless otherwise noted