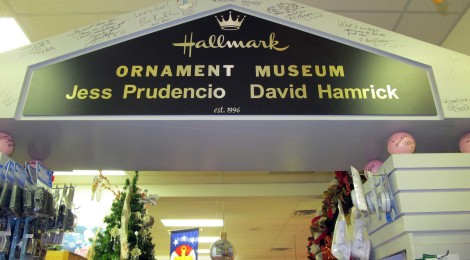 In 1978 when Norm and Dorothy Snyder bought their tiny card shop in the northern Indiana town of Warsaw they never dreamed it would evolve into a tourist destination and one-of-a-kind museum.
The Party Shop, a 12,000-square foot Hallmark Gold Crown Store, is about triple the size of an average Hallmark shop. A substantial amount of that floor space is dedicated to 30-plus glass-fronted cabinets that house the only public display of every Keepsake Ornament made by Hallmark since the collectibles debuted in 1973 with a line of 18 decorations. Today Hallmark introduces 300 Keepsake designs each year.
Curated by the Snyders' son David Hamrick, the more than 4,000 holiday ornaments are arranged chronologically and reflect the trends and taste of the times (Miss Piggy was hot in 1983).
He conceived the museum after acquiring several hundred ornaments from the collection of a friend, Jess Prudencio, in 1996. To accommodate the displays the family moved the shop from downtown Warsaw to its location in a strip mall with easy road access and plenty of parking for tour buses.
"Can you imagine, people from all over come to Warsaw and the cornfields of Indiana to our museum?" asks Norm, who remembers rigging chicken wire for ornament displays in their original store. Now the family has local Amish cabinet-makers build their solid showcases.
David deals with collectors who may pay up to $600 for a rare bauble. But there are deals on the shelves of retired ornaments for sale. If your Christmas tree isn't complete without a mini-Muhammad Ali hanging from a branch you may get lucky—I saw one at its 1999 price of $14.95.
The Party Shop's Hallmark Keepsake Ornament Museum is free and open all year 'round.
Visitor Info Clicks:

Northern Indiana

Visit Indiana