Researching, taking the pictures, writing and editing 100 Things to Do in the Upper Peninsula Before You Die was only 99% of the fun. The other 99% is attending book signings and gabbing with people about the U.P.
Oh, and passing out mini sampler bags (while they last) of the Dunking Toast of the Great Lakes Gazette, donated by Trenary Home Bakery.
Look for our splatter-painted Jeep as TJ and I make our way around the state at these events, and stop by to say hi (and buy a book).
Can't make an event? Click here for info on where you can find the book. 
BOOK PROMOTIONS ON HOLD WHILE I WORK ON MY NEXT BOOK:
100 Things to Do on Mackinac Island Before You Die (coming in spring 2018)
(check periodically for updates and new events):
BEEN THERE, DONE THAT: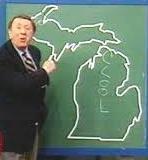 Saturday, August 26 Book signing, Lumberjack Breakfast and Country/Polka Music Festival at Tahquamenon Logging Museum, Newberry
Saturday, August 12 Book signing, Engadine Tractor Show, Engadine (or Enga-Ringa-Dinga-Dine—old time Detroit weatherman Sonny Eliot's name for the town)
Saturday, August 5
Book signing, Grand Marais Outfitters, Grand Marais
Thursday, July 20
Author chat at the Engadine Public Library
Friday, June 23
Book signing at the Anchor In Naubinway, our town at the Top of Lake Michigan
Saturday, June 17
Book signing at Saturn Booksellers, Gaylord
Saturday, June 10
Book signing, Nanette's Knits & Gifts 5th Anniversary Celebration, Wakefield
Sunday, June 11
Book signing on day two of Pictured Rocks Days celebrating the National Lakeshore. Yoopers free ride on the Pictured Rocks Boat Tour, music, food and vendors at Bayshore Park, Munising
Wednesday, May 31
8:10 a.m.  On the radio with Jack O'Malley and the WTCM Radio Morning Show with Maddie Lundy at FM 103.5, Traverse City
Friday, May 26
7 a.m.  On The Joy Cardin Show, Wisconsin Public Radio 
4:45 p.m.  On the radio with Roop Raj on the Guy Gordon Show, WJR AM 760, Detroit 
Thursday, May 18
8:30 a.m.  On the radio with Ron Jolly, WTCM AM 580, Traverse City
11:30 a.m.-1 p.m.  Book signing, Horizon Books – Traverse City
May 10  U.P. Bucket List: From Big Mac to the Gipper story by Kathleen Lavey at the Lansing State Journal, also ran in several Michigan papers including the Detroit Free Press, plus USA Today!
May 1  Discovering 906 Outdoors, WLUC TV Marquette, with Brian Whitens
April 30  Books & Authors Day at Leon & Lulu, Clawson
April 29  Book signing (my very first!) at Snowbound Books, Marquette