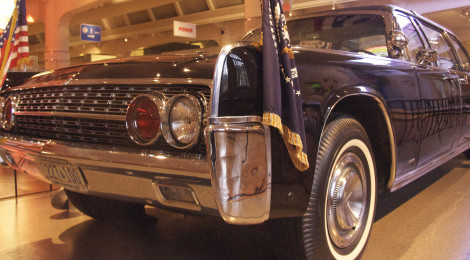 What's in the water in Ohio that it is the home of eight U.S. Presidents? Michigan claims just one Commander in Chief: Gerald R. Ford, The Accidental President. And no, I am not referring to his well-documented stumbles and bumbles, including at least one errant golf shot.
The 38th President of the United States started life as Leslie Lynch King, Jr. in Omaha, Nebraska, in 1913. Within weeks of his birth his mother fled her abusive husband and landed in Grand Rapids, where she met, and in 1916 married, a paint salesman named Gerald R. Ford. They renamed her son after the stepdad.
Ford, a 13-term U.S. Congressman from Michigan, was elevated to vice president under Richard Nixon, when Veep Spiro Agnew resigned the office in 1973. Less than a year later Richard Nixon resigned and Ford assumed the office of President. Two years later Ford lost his election bid to Jimmy Carter.
At the Ford Presidential Museum in Grand Rapids you can learn about his life and the professional and personal challenges he and his wife Betty Ford faced. (The museum is worth another visit if you haven't been there since it was renovated in 2016.) The Ford Library is located in Ann Arbor.
In the Detroit area, the Henry Ford Museum in Dearborn displays several artifacts with Presidential connections, including the chair in which Abraham Lincoln was shot and a camp bed and chest used by George Washington.
See the horsedrawn carriage used by Theodore Roosevelt and limos that carried Presidents Nixon, Ford, Reagan, Eisenhower, Franklin D. Roosevelt, and John F. Kennedy. You can take an online tour of presidential vehicles.
Presidential Big Heads
Each November Gerald Ford marches through Detroit as one of the "Big Head" characters in America's Thanksgiving Day Parade. The president is one of the Michigan celebrities immortalized in papier-mache and worn by members of the Big Head Corps for the big event.
Metal artist Tom Moran of Onaway has crafted giant, 12- to 14-foot busts of Presidents Ford, Lincoln and Washington. They're joined by the Statue of Liberty, an eagle and other symbols that he makes for his hometown's July 4th parade in northeastern Lower Peninsula.
Did you know…
…that on October 14, 1960, just weeks before the election that would make him president, Senator John F. Kennedy spoke to University of Michigan students on the steps of the Michigan Union? It's recognized as the place where the idea for the Peace Corps was hatched.
…that Ronald Reagan was named the GOP candidate at the 1980 Republican National Convention in Detroit?
…that Thomas Dewey, who did NOT defeat Truman in the 1948 presidential race, was born in Owosso?
…that when President Theodore Roosevelt visited Lansing on May 31, 1907, he specified that he ride in two different cars, one from each of the rival companies REO and Oldsmobile.
…that only four incumbent presidents have visited the Upper Peninsula: William Howard Taft in 1911; George Bush in 2004; Barack Obama in 2011; and in 1992 President George H.W. Bush led the Labor Day Mackinac Bridge Walk between St. Ignace and Mackinac City. (It didn't help his cause.)
Fun fact related to the 1992 Bridge Walk: TJ, Graham and I were staying at the Ojibway Hotel in Sault Ste. Marie, and were booted out a day early by the Secret Service due to a last minute visit scheduled by President Bush. Graham, at age of almost-four, was a big fan of H.W., so he was excited (though we never saw the Prez).
Presidential Places in Michigan
The following Michigan locations share names with U.S. Presidents.  Those marked with * were named for that president, although some were military heroes or U.S. legislators and had yet to attain the highest office when they were honored with the namesake place. Which presidential names are missing? (Answer below):
Adams
Arthur
*Buchanen
Bush
Cleveland Mine
Clinton
*Fillmore
Ford
*Garfield
*Grant
*Harrison
*Hayes
*Jackson
*Jefferson
Johnson
*Lincoln
*McKinley
*Madison
*Monroe
Nixon
*Roosevelt
Taft
*Taylor
*Tyler
*Van Buren
*Washington
Wilson
According to the book Michigan Place Names, Michigan has no place for Carter, Coolidge, Eisenhower, Harding, Hoover, Obama, Pierce, Polk, Reagan, Truman or Trump.