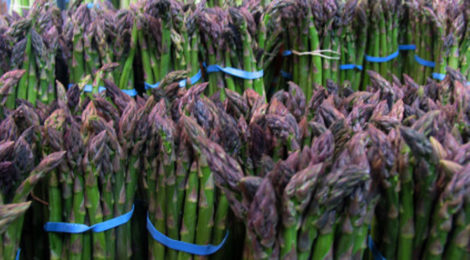 'Tis asparagus season in Michigan
While tourism and agriculture tussle over which industry ranks second to manufacturing in Michigan's economy, some folks are combining the two in promoting Agri-Tourism; check out the Michigan Farm Fun Directory to festivals, tours and, well, farms where you can have fun. It makes sense, since Michigan is second only to California in the variety of crops grown and there's increasing interest by travelers in enjoying the fruits of the land, from wineries and farm tours to U-picks, farm markets and food festivals.
Each year Michigan's asparagus country celebrates its seemingly perfect food: the early summer vegetable is low in calories and sodium, a good source of folic acid, thiamin, potassium, fiber, iron, vitamins and other healthy-sounding things. California and Washington and Michigan are the top three states in asparagus production. Most of Michigan's 9,500 commercial asparagus acres are in Oceana County near Lake Michigan in the Lower Peninsula.
That's the setting for the National Asparagus Festival in June, which features asparagus farm tours, food show, fun run, arts & crafts and grand parade. We attended many years ago and I still remember the asparagus pizza, the walking stalks of asparagus in the parade, and stopping at someone's garage to buy a huge grocery bag of fresh stalks for a few bucks.
A highlight of the Empire Asparagus Festival in late May is the Ode to Asparagus Poetry Competition.
Michigan's crop pops in May and usually winds down in late June. Imported asparagus, particularly from Peru, satisfies Americans' year-round appetite for the spears, but is a threat to the U.S. grown crop. The documentary "Asparagus! Stalking the American Life" tells the story of Michigan asparagus growers; check out the stalk-umentary or buy it at the Asparagus: The Movie website.
Learn more about the veggie from the Michigan Asparagus Advisory Board, which lists facts, storage tips and recipes. I thought I'd made asparagus guacamole from a recipe on that website, but when I had the urge to whip up a batch of the dip I had to go elsewhere for guidance; here's a good recipe.
I do like the looks of the Asparagus Frittata on the Michigan growers' website, and the Bacon-Wrapped Asparagus. I guess if you're eating one of the most nutritious veggies you can afford to enjoy it with bacon.
Bacon-Wrapped Asparagus
From the Michigan Asparagus Advisory Board
The taste of this easy-to-prepare appetizer will surprise you.
1 pound fresh Michigan asparagus
8 – 10 strips bacon
Wash and trim asparagus spears. Cut bacon strips in half crosswise. Wrap one-half strip bacon around each asparagus spear, leaving tip and end exposed. Lay on a cookie sheet with sides. Bake in a preheated 400-degree oven for 20 to 25 minutes, or until bacon is cooked. Serve warm or at room temperature.
Makes 16 to 20 spears
My brother Gordie grilled Rachael Ray's slightly different and delish version;
click here.