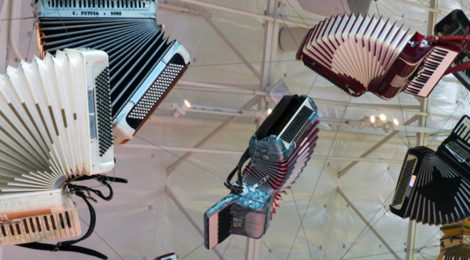 June is National Accordion Awareness Month, and if you're asking why this musical instrument needs an awareness month, you've just answered your own question.
You may associate the accordion with polka tunes and oom-pah-pah music, but the bellows-driven, reed instrument is quite versatile and shows up in many musical genres, from Cajun to folk, pop, country, tango, Calypso—then there's Weird Al Yankovic. One of my favorite jazz groups, Hot Club of Detroit, makes extensive use of it.
French native Julien Labro plays accordion and bandoneon in the quintet, which is known for its modern jazz, swing, and original compositions, with styling a la Django Reinhardt, the famed Belgian Gypsy Jazz guitarist (b. 1910, d. 1953). But, as they say, it's "far from a traditional gypsy jazz ensemble." They've played at jazz festivals and clubs such as Detroit's Cliff Bell's, the Green Mill in Chicago and elsewhere.
Here are some facts from the folks behind National Accordion Awareness Month; celebrate accordion-ly:
1. A blue-ribbon panel of experts named the accordion as the instrument most likely to put a smile on your face
2. In 1990 the piano accordion was named the official musical instrument of the city of San Francisco
3. The first U.S.-made piano accordion was made in San Francisco in 1907 by the Guerrini Accordion Company (which explains #2, above)
4. Barry Manilow, Billy Joel and actress Lucy Liu play the accordion
5. The accordion family includes the large piano-style squeeze box as well as Cajun button boxes, chromatic and diatonic button accordions, the concertina, the byan, and the bandoneon
6. China leads in production of accordions today
Inspired to pick up a squeeze box? Go to Castiglione Accordion in Warren, Michigan. The family-run business, started in 1935 by Vincent Castiglione, carries new and used models from 30 manufacturers—including their own.
Check in with the Michigan Accordion Society for their monthly music events around the Detroit area. Real fans will want to visit the World of Accordions Museum in Superior, Wisconsin.
Festivals celebrating the accordion and its music include:
Buffalo Squeeze-Fest, Buffalo, NY, July 6-10, 2016
Cotati Accordion Festival, Sonoma, California, August 20-21, 2016
International Accordion Festival, San Antonio, Texas, September 2016
Story and photos (unless noted) copyright Kath Usitalo.