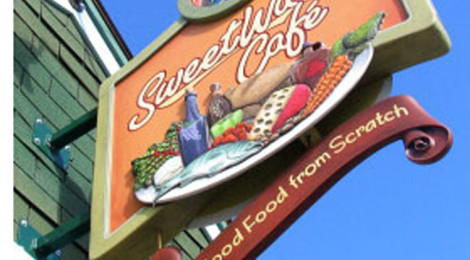 It seemed like such a radical idea at the time, especially in the meat-and-potatoes land of the Upper Peninsula near the Lake Superior shore. Way back in 1993 when Ursula Stock and Sean Murray opened their Sweet Water Café in Marquette they were ahead of the culinary trends of locally-sourced, organic, vegetarian and multi-cultural dishes that are so popular today.
They're still fulfilling their promise of "Good Food from Scratch" in a soaring space filled with wood, plants and a vibe that kinda sorta reminds me of Moosewood Restaurant in Ithaca, New York. Turns out there's a connection: Ursula and Sean met at Cornell University in Ithaca, and traveled around to find the right spot to dish fresh and inventive meals made without artificial flavors or preservatives, using lots of housemade and farm-to-table ingredients. They chose a former dance hall on Third Street near Northern Michigan University.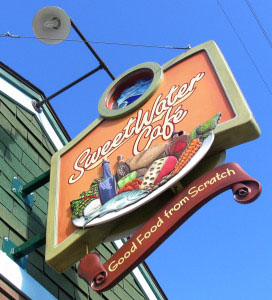 The name Sweet Water Café refers to both Lake Superior, the freshwater Great Lake called a  "sweetwater" sea, and to the sugar maple tree sap that becomes the topping—real maple syrup—that complements the specialty pancakes and French toast.
Sweet Water is open for breakfast, lunch and dinner, but we've only been there for the most important meal of the day—gotta love a place that serves breakfast until 3 p.m.—and have always found plenty to like.
On our last visit I chose the spinach feta omelette made with eggs from chickens that roam free at a local farm, and the housemade, three-seed bread, toasted, with Sweet Water's own strawberry jam. Paige's French toast came with that real U.P. maple syrup, and TJ gave his bowl of multi-grain, hot cereal a rating of delish. We shared a side of thick, tasty bacon from Vollwerth in Hancock, maker of meat products since 1915.
Vegetarian, vegan, and gluten-free options are available. The kids' menu is sure to please. Beverage choices range from a variety of coffee drinks, tea, and  fresh squeezed juices to beer, wine, and specialty adult beverages. The Bloody Marys get rave reviews. And did I mention I love the three-seed bread?
Sweet Water Café shook up the U.P. dining scene when it first opened two decades ago, but today its food philosophy seems only natural.
Sweet Water Cafe
517 N. Third St., Marquette, Michigan
(906) 226-7009
Located in Area E on map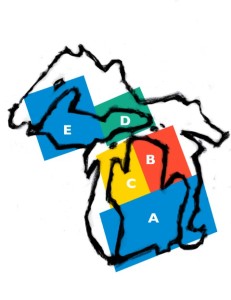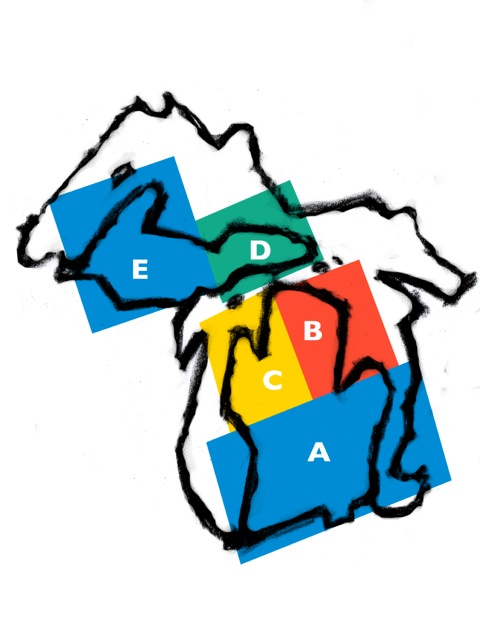 Visitor Info Clicks:
Marquette
Upper Peninsula Travel
Pure Michigan
All photos and stories copyright Kath Usitalo unless otherwise noted